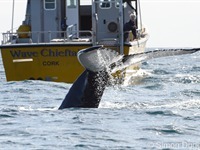 Whale & Dolphin or Marine Eco Tours
Enjoy seeing close-up the rugged coastline and harbours, inlets, islands, sea arches, tunnels AND marine wildlife. We have unpolluted waters, warmed by the Gulf Stream, pristine topography, colourful and spectacular scenery.
Baltimore is known as the place to see these wonderful animals. Depending on the time of year, there are sightings of basking sharks, minke whales, humpback whales, fin whales, dolphins, harbour porpoises, rissos, sunfish (mola mola), the occasional orca (killer whale) and leatherback turtle plus of course plenty of seals and sea birds.
Subject to weather and minimum numbers, this 3.5 hr excursion is with Aquaventures on the hardboat "Wave Chieftain" (free hot drinks on board, fully licensed by the Department of Marine and there's a toilet on board) with indoor and outdoor seating.